M S Bitta – Sameer Wankhede And Nilotpal Mrinal Flag Off The CANTHON Run For Cancer Awareness
UNIVERSITY OF MUMBAI CANTHON  MUMBAI MARATHON 2023 a cancer awareness run was organised by  Shri Nilotpal Mrinal Trustee Nanhi Goonj Vikas Foundation in support of cancer patients, and to create awareness for health, cancer awareness and prevention in particular. The first Canthon was held in Mumbai in 2019 with more than 3,000 runners. The Canthon has now become an annual event with increased number of runners,
The event was attended by Shri M S Bitta , Chairman AIATF , IRS office Shri Sameer Wankhede who motivated participants and all participants took oath for Anti Terrorism and Anti Drugs
The event was attended by NSG Commandos , Indian Army  , Mumbai police , Cyclist , And Divyaang
Shri Nilotpal Mrinal initiated many social activities in past like planted 100000 trees in past , supporting flood affected people , during covid
Shri Nilotpal Mrinal is himself Physically disable and by seeing others he feels like he is  running. A significant section of the Indian population appears to be ignorant of health issues, including cancer and its causes. It is our social duty to raise awareness of the issue. CANTHON team so strives to inspire and promote public participation for Health, namely cancer awareness and prevention. The goal is to solely raise awareness and prevent cancer in the next 10 years, cutting the number of cases in half. The time has arrived for us to unite in the fight against cancer.
The running community has a social responsibility to make sure that more people join us in enhancing the health of the country, and only the running community is capable of doing this. This time we along with university of mumbai working together to educate society about various health issues, particularly cancer, and to raise awareness for a healthy lifestyle, fitness, and the importance of nutrition in one's life, as well as to contribute to the development of a strong nation.
Race categories
Family2/ 5 KM run: This is a terrific and enjoyable opportunity for parents to run with their children. An individual runner can take part in this competition. The option to use a timing chip for the 5 km run must be made at the time of registration.
Timed 5 KM run: electronic chip will be provided
10 KM– These are timed runs and the electronic timing chip will be provided
Cycle race 5k/10k only for women on women's Day
Honour Run 2k – our Disabled member
This time we also undertook cancer screening and health checkup camp for staff , famity member and student of university of Mumbai on 4th march.
Canthon Mumbai Half Marathon in its Edition 4 th is strongly committed to support cancer patients, and to create awareness for health, cancer awareness and prevention in particular.    UNIVERSITY OF MUMBAI CANTHON  MUMBAI MARATHON 2023 is intended to sensitize the society on various social issues i.e. Swasth Bharat, Swachh Bharat, Women Empowerment, Climatic Change, Racial Discrimination, Health & Fitness amongst youth & society at large.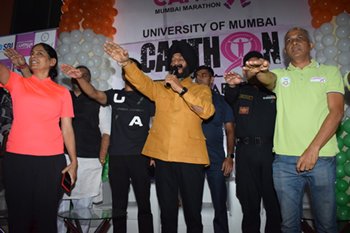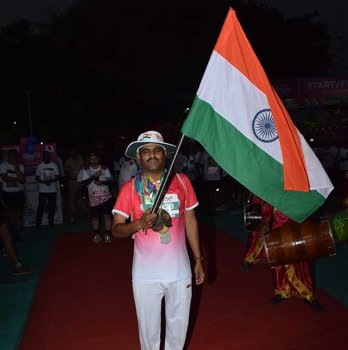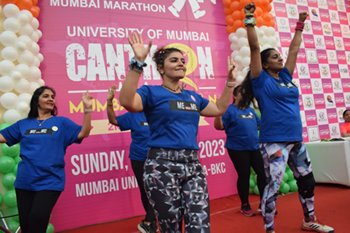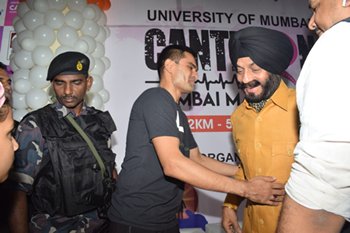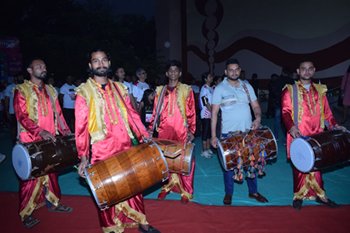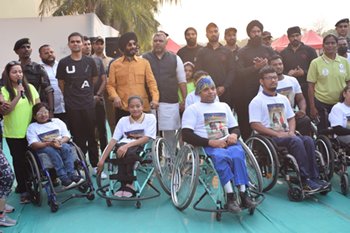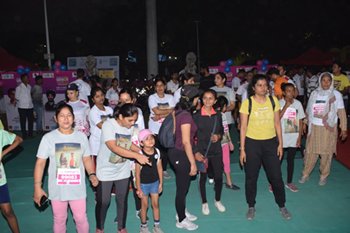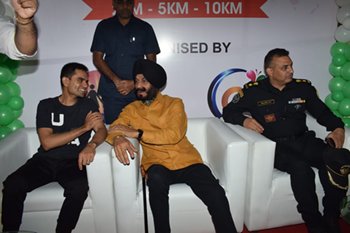 M S Bitta –  Sameer Wankhede And Nilotpal Mrinal Flag Off The CANTHON Run For Cancer Awareness