Made In India Swadeshi Fashion Runway And Dr APJ Abdul Kalam Bharat Puruskar Ceremony By Sonia Mayers
Major General Vikram Dev Dogra, IPS Krishna Prakash, Sandeep Soparkar, DJ Akbar Sami, film actress Poonam Jhawar received the award. Made in India, Swadeshi Fashion Runway Season 7 and Dr. A.P.J. Abdul Kalam Bharat Puruskar Organized  successfully by Sonia Mayers at Juhu Millennium Club in Mumbai. The chief guest of the event was Dr. APJMJ Sheikh Salim, grandson of former President Dr. APJ Abdul Kalam's brother. Sheikh Salim is the son of Abdul Kalam's elder brother. Trophies were given to all the awardees by his hands. Choreographer Sandeep Soparrkar, DJ Akbar Sami, film actress Poonam Jhawar were present on the occasion among the celebrity guests.
The award ceremony was held in the presence of several top government officials including respected Major General Vikram Dev Dogra, IPS Krishna Prakash.
First of all the artistes presented Bharatanatyam. Then the special guests started the program by lighting the lamp. Special guests were honored with shawls.
Show organizer Sonia Mayers said that it is a big matter for us to have Dr. Kalam's nephew grand son here. It was a proud moment for us, for the first time he came to Maharashtra for an award function. Salute to Dr. Kalam. Even though the body of Kalam Sahab is not with us, but his thinking, his ideology, his memory is always with us. We are paying tribute to him through this program. DJ Akbar Sami also came on one of my call. Heartfelt thanks to all the special guests.
Sonia Mayers told that the agenda of Swadeshi Fashion Runway is to promote indigenous products with a revolutionary thinking. To create work opportunities for below poverty line weavers, youth, widows, transgenders.
Made in India Swadeshi Runway Fashion Show was great. Actors Abhijit Lahiri and Aliza Khan, Poonam Jhawar and Riddhima Pai were the showstoppers for the show.
First Major General Vikram Dev Dogra, IPS Krishan Prakash was honored with the Dr. APJ Abdul Kalam Bharat puruskar. IPS Amitabh Gupta, Mr. Ravindra Bhakar, Dr. Nitish Bhardwaj, Sandeep Soparkar, Udit Narayan, Kamal Ghimire, Terres Lewis, Shibani Kashyap, DJ Akbar Sami, Actor Mangesh Desai, Mrs. Poojashree Jhawar, Mrs. Madhu Singh, Mr. Zaheer Darbar, Dr. Prachi Shinde, Ms. Raj Laxmi Chavan, Mrs. Usha Bajpai, Mrs. Sejal Ray, Dr. Poornima Kulkarni, Mrs. Anindita Chowdhary, Mr. Mohan Nair, Mrs. Aarti Hemen Kapadia, Mrs. Sandra D'Souza Rana, Lt. Col. Salil Jain, Mr. Amit Medhekar, Ms. Swapnokal Dasgupta, Dr. Sandhya Pureche, Mr. Paritosh Seth, Mr. Abhishek Banerjee, Ms. Prachi Vaibhav Arude, Mr. Rehan Shah, Mr. Jayesh Mohanlal Oswal, Mr. Vikrant Achrekar, Ms. Preeti Suraj Patil, Ojas Rajani, Mr. T. Satish Kumar IDAS, Mr. Vishal Dayaram Mahadik , Sameer Date and Dipali Date, senior Bollywood photographer Ramakant Munde received this award. The hospitality partner was Goldfinch Hotel and the OTT partner was Velvet Chris Video.
The responsibility of media promotions was well handled by Ramakant Munde of Munde Media PR.
——–Pics :- Ramakant Munde Mumbai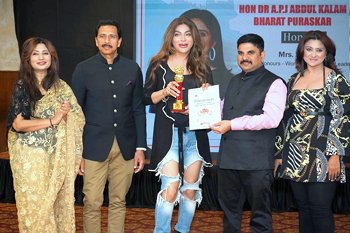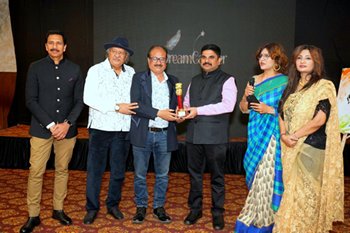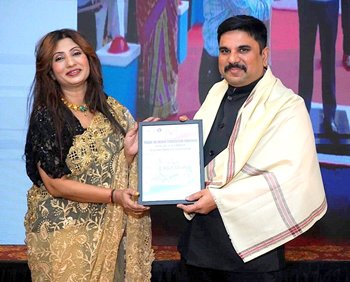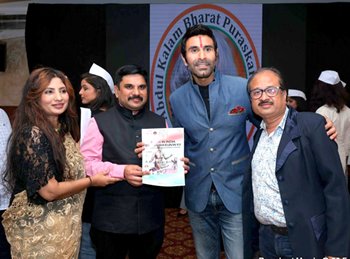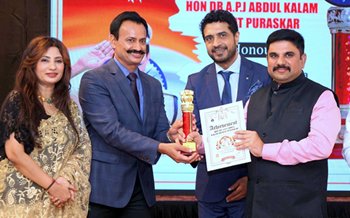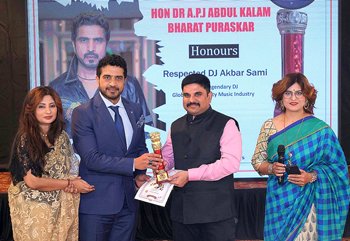 Made In India  Swadeshi Fashion Runway And Dr  APJ Abdul Kalam Bharat Puruskar Ceremony By Sonia Mayers